Great Central Railwayana Ltd
14 School Street, Woodford Halse, Daventry, NN11 3RL
Office Hours: 10.00 a.m. to 5.00 p.m., Monday to Friday
Telephone: 01327 262193 / 01327 263633
Welcome to www.gcrauctions.com, the
Great Central Railwayana Auctions Official Website
Latest News: 13th November 2020
Bloxham Auction replaced by Live On-Line Auction
Our next auction is a replacement "Bloxham Auction" of general railwayana which will be a live on-line event (hosted by video link via this website) on Saturday, 21 November. A fully illustrated catalogue is available for viewing now.
Please Note: We recommend that you wait until registration for this sale is available / open from our own website in order to receive our normal Buyers' Premium terms. We expect this to be available early in the week commencing Monday, 16 November, after some essential website maintenance over the weekend.
Fortnightly Auctions
The catalogue for Sale No. 295, the last Fortnightly Auction before Christmas in this highly successful series, has been updated with the Sale Results. Our Fortnightly Auctions will resume in January. We are taking a break in the series in order to fit in the special live on-line Railway Children Charity Auction (advert above) and the live on-line Bloxham Auction (see previous paragraph).
Items to sell?
With GCR's Fortnightly Auctions your entries can be in offered in one of our sales within weeks rather than months, releasing funds faster; perhaps for the purchase of some other desirable items in our auctions?
Ticket Auctions
Our Paddington Ticket Auctions will continue as 'postal' auctions until our live London events can resume. The catalogue for the next Paddington Ticket Auction will be on-line in January. Our regular Postal Ticket Auctions continue as normal.
Resumption of Live Auctions
We will resume all our live auctions as soon as is safe and practical. The situation is changing all the time, so please "watch this space" for the latest news!
November 2020 Postal Auction of Railway, Bus and Tram Tickets
Bidding in this Postal Auction closed on Tuesday, 3 November 2020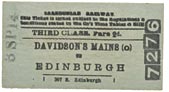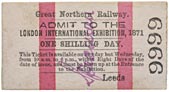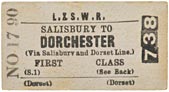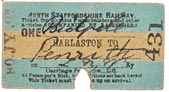 The On-Line Ticket Auction Catalogue was updated with the Sale Results. A complete listing of these can also be downloaded as a PDF file for printing:
Ticket Auction, Sale 294, Results.
----------------------------------------------------------------------------------------------------------------------------------
Great Central Railwayana Fortnightly Sales
A small selection of items sold in our Fortnightly Sales:
----------------------------- Great Central Railwayana, Sale 291 -----------------------------
Totem Station Sign: SETTLE
- sold in Sale 291 for £2,900

Target Station Sign: MAYFIELD
- sold in Sale 291 for £1,800

Locomotive Nameplate:
SARUM CASTLE
- sold in Sale 291 for £9,600

Smokebox Numberplate: 48127
- sold in Sale 291 for £580

Signal Box Instrument Plate: TYER'S Patent
- sold in Sale 291 for £520

Doorplate: SIGNAL LINEMAN'S HUT
- sold in Sale 291 for £560
----------------------------- Great Central Railwayana, Sale 289 -----------------------------
Totem Station Sign: MABLETHORPE
- sold in Sale 289 for £2,600

Locomotive Nameplate: BYRON
- sold in Sale 289 for £6,100

Totem Station Sign: STONE
- sold in Sale 289 for £740

Enamel Sign: LADIES WAITING ROOM
- sold in Sale 289 for £620

Enamel Signs: GWR Trespass Notice
- sold in Sale 289 for £300

Cast Iron Sign: Drinking Water, GWR
- sold in Sale 289 for £540
----------------------------- Great Central Railwayana, Sale 287 -----------------------------
Totem Station Sign: Towyn
- sold in Sale 287 for £1,250

Poster: Bournemouth Belle, Barber
- sold in Sale 287 for £900

Locomotive Nameplate: Snowdon (LNWR)
- sold in Sale 287 for £6,000

Smokebox Numberplate: 7027, Thornbury Castle
- sold in Sale 287 for £1,750

Diesel Worksplate: BRUSH TRACTION 1094
- sold in Sale 287 for £1,100
----------------------------- Great Central Railwayana, Sale 286 -----------------------------
Locomotive Nameplate: 66 SQUADRON
- sold in Sale 286 for £13,700

Totem Station Sign: ORE
- sold in Sale 286 for £1,000

Cast Iron Sign: Met. Railway, PRIVATE ROAD
- sold in Sale 286 for £420

Target Station Sign: HEATHFIELD
- sold in Sale 286 for £3,700
----------------------------- Great Central Railwayana, Sale 285 -----------------------------
Locomotive Headboard: THE WAVERLEY
- sold in Sale 285 for £3,200

Worksplate: Class 92, BRUSH TRACTION 1076
- sold in Sale 285 for £1,200

Totem Station Sign: CEFN ON
- sold in Sale 285 for £2,000

Signal Lever Plate: GWR Double Width
- sold in Sale 285 for £5,700
----------------------------- Great Central Railwayana, Sale 284 -----------------------------
Totem Sign: Chapel-en-le-Frith, Central
- sold in Sale 284 for £4,100

Steam Locomotive Roundel: SNCF
- sold in Sale 284 for £1,100

Totem Station Sign: CLAPHAM JUNCTION
- sold in Sale 284 for £1,850

Smokebox Numberplate: 9014
- sold in Sale 284 for £1,550

Target Station Sign: FELTHAM
- sold in Sale 284 for £1,900

Worksplates (Diesel): BREL,Crewe, 1990
- sold in Sale 284 for £800

Target Station Sign: HEST BANK
- sold in Sale 284 for £2,300
----------------------------- Great Central Railwayana, Sale 282 -----------------------------
Target Station Sign: THREE BRIDGES
- sold in Sale 282 for £1,050

Locomotive Nameplate: KING LEODEGRANCE
- sold in Sale 282 for £6,300

Target Station Sign: TAYNUILT
- sold in Sale 282 for £2,300

Worksplate (Diesel): GM 968702-174
- sold in Sale 282 for £200

Destination Plate: PLYMOUTH
- sold in Sale 282 for £360

Smokebox Numberplate: 92045
- sold in Sale 282 for £760

Worksplate: SHEEPBRIDGE COAL & IRON
- sold in Sale 282 for £200

Worksplate: ROBERT STEPHENSON 3584
- sold in Sale 282 for £320

Cabside Numberplate: 7777 (GWR)
- sold in Sale 282 for £860
----------------------------- Great Central Railwayana, Sale 280 -----------------------------
Locomotive Nameplate:
PORTLAND BILL
- sold in Sale 280 for £10,300

Station Sign: Brondesbury Park etc.
- sold in Sale 280 for £2,200

Totem Station Sign: WITHYHAM
- sold in Sale 280 for £7,300

Target Station Sign: HALWILL
- sold in Sale 280 for £2,400

Single Line Tablet: Lymington Jnc - Lymington
- sold in Sale 280 for £520

Totem Station Sign: ILKLEY
- sold in Sale 280 for £3,100
To register for complimentary catalogues for our future live auctions please or phone on 01327 263633
www.gcrauctions.com