GCR Fortnightly Sales: Lot 8, Sale 282
Closing Days: Thursday, 25 June & Friday, 26 June 2020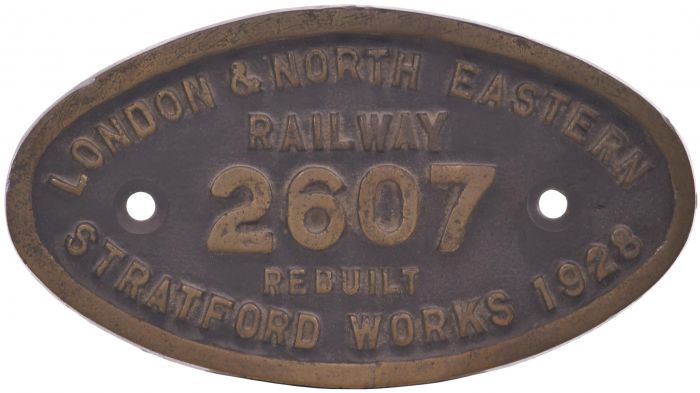 Lot 8

Worksplates (Steam)

LNER 2607 Rebuilt Stratford 1928 (62607)
A worksplate, LONDON & NORTH EASTERN RAILWAY 2607 REBUILT STRATFORD WORKS 1928, from a Great Eastern Railway D56 Class 4-4-0 No 1796 built at Stratford in July 1911 which became LNER D15 Class No 8796 in 1924. Rebuilt and re-classified to D16/1 in December 1928 and further rebuilt and re-classified to D16/3 in December 1946 and the same month renumbered 2607, becoming BR 62607. Allocated to Cambridge by January 1946, it had spells at South Lynn and Bury St Edmunds before finishing its days back at Cambridge from where it was withdrawn on 28 November 1955. It was cut up at Stratford Works. The Class were generally known as Clauds after the first of the class named Claud Hamilton. Cast brass, 9"x5", lightly cleaned. £300-500
This lot sold for £300 to bidder number 979.