GCR Fortnightly Sales: Lot 47, Sale 282
Closing Days: Thursday, 25 June & Friday, 26 June 2020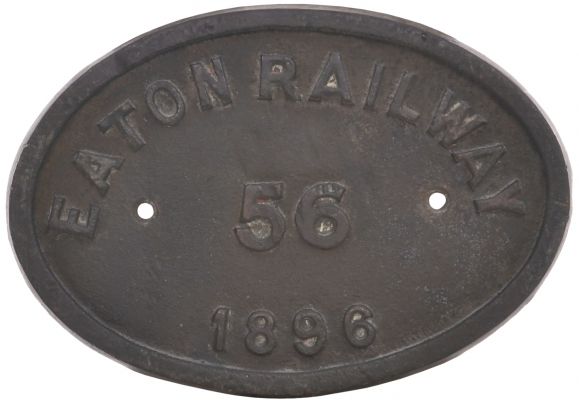 Lot 47

Wagonplates

Eaton Railway, 56, 1896
A wagonplate, EATON RAILWAY, 56, 1896, from a goods wagon used on the 15" gauge 4½ mile long railway built in 1896 for the 1st Duke of Westminster to transport coal and other materials from sidings at Balderton station on the Shrewsbury-Chester line to the Duke's estate at Eaton Hall in Cheshire. It closed in 1946 but was reinstated as a tourist attraction in 1996. Cast brass, 6¼"x4¼", fine original condition. £150-300
This lot sold for £640 to bidder number 2991.