GCR Fortnightly Sales: Lot 14, Sale 282
Closing Days: Thursday, 25 June & Friday, 26 June 2020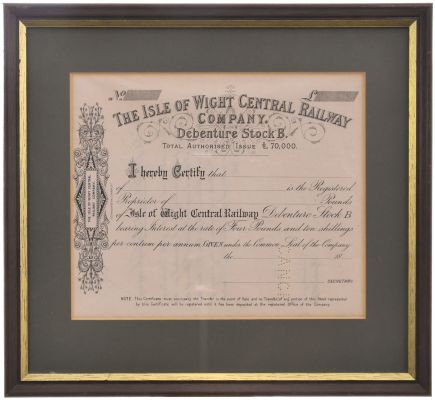 Lot 14

Framed and Glazed Items

Isle of Wight Framed Items (2)
Isle of Wight, a collection of paperwork contained in a pair of frames. (a) IOWR Brading Harbour, ticket for pram, wheelbarrow, ox, cow, etc. (b) Similar, bike, tricycle, mare, gelding, mule or ass, laden or unladen, bath chair, etc. (c) IOWC, FYN&NG&ST L Ry horse, carriage or dog ticket 1902. (d) Ryde, Newport & Cowes Rly 1879 label re extension of time table. (e) IOW Newport Jct Rly & Ryde Pier Ry 1879 small label re train service (these would be attached to timetables. (f) IOWCH Ry share certificate, Debenture Stock B (unused). Six items in two frames, 13½"x12" and 10½"x13½". £50-80
This lot sold for £720 to bidder number 1128.
Additional picture: