GCR Fortnightly Sales: Lot 54, Sale 295
Closing Days: Bidding closes on Wednesday, 11 November at 5:00pm with "Final Bid" on Thursday, 12 November & Friday, 13 November 2020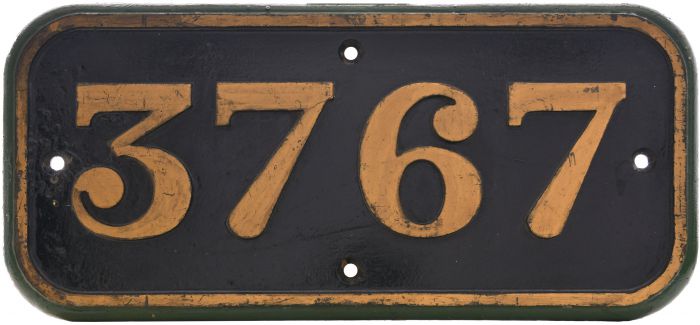 Lot 54

Cabside Numberplates

3767
A GWR cabside numberplate 3767 from a 8750 Class 0-6-0PT built at Swindon in April 1938. A long time Brecon engine, one of an allocation of only eleven, until it lost its 89B code in 1959 when its locos were divided between Oswestry and, in this case, Ebbw Junction. Withdrawn from Ebbw Junction on 1 October 1965, it was sold for scrap to T.H. Jones at Newport on 9 November 1965. Cast iron, the front repainted. £250-400
This lot sold for £560 to bidder number 612.
Additional picture: