GCR Fortnightly Sales: Lot 55, Sale 295
Closing Days: Bidding closes on Wednesday, 11 November at 5:00pm with "Final Bid" on Thursday, 12 November & Friday, 13 November 2020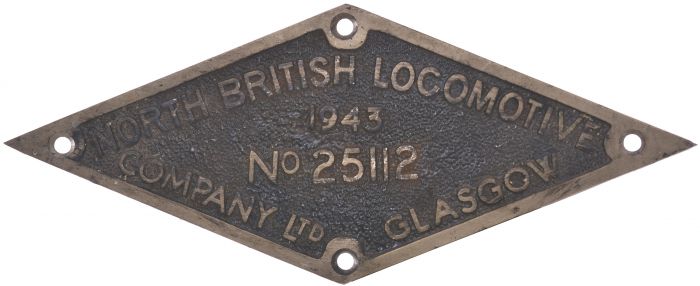 Lot 55

Worksplates (Steam)

NBL 25112, 1943 (90205)
A worksplate, NORTH BRITISH LOCOMOTIVE CO, 25112, 1943, from a War Department Austerity 2-8-0 built to Ministry of Supply order in November 1943, WD No 77241. Its early history is uncertain but it is known to have worked at Cairnryan before going overseas and also worked on the Longmoor Military Railway before being loaned to the GWR in April 1947 and taken into BR stock as No 90205. It spent its final years at Bury from where it was withdrawn in March 1964 and sold for scrap to Looms at Spondon. Cast white brass, 13¾"x5½", ex loco condition. £150-300
This lot sold for £320 to bidder number 403.
Additional picture: