GCR Fortnightly Sales: Lot 1, Sale 293
Closing Days: Bidding closes on Wednesday, 28 October at 5:00pm with "Final Bid" on Thursday, 29 October & Friday, 30 October 2020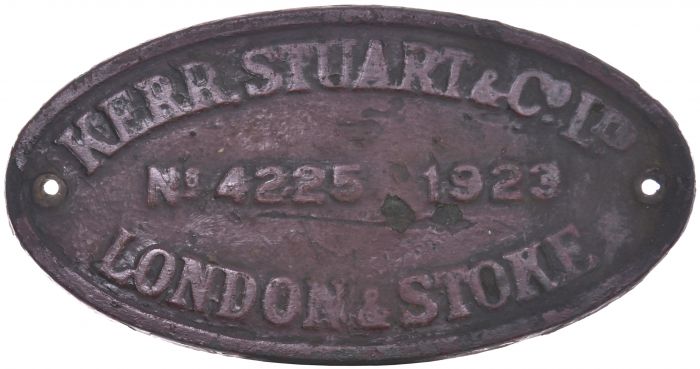 Lot 1

Worksplates (Steam)

Kerr Stuart, 4225, 1923
A worksplate, KERR, STUART & Co LTD, 4225 of 1923. From a standard gauge 0-4-0ST, one of six Kerr, Stuart "Moss Bay" class locomotives ordered for stock in 1922, although only five, 4223 to 4227 were actually built. The first two were 5ft 6in gauge examples sold for export in 1922 but the other three remained in stock for many years before sale. 4225 was sold in May 1929 to Doncaster Coalite Ltd, Askern, Yorkshire West Riding, where it spent all its working life until withdrawn and scrapped late in 1964. Cast brass, 12¾"x6¾", ex loco condition with maroon paint. £200-350
This lot sold for £380 to bidder number 754.
Additional picture: