GCR Fortnightly Sales: Lot 69, Sale 285
Closing Days: Thursday, 23 July & Friday, 24 July 2020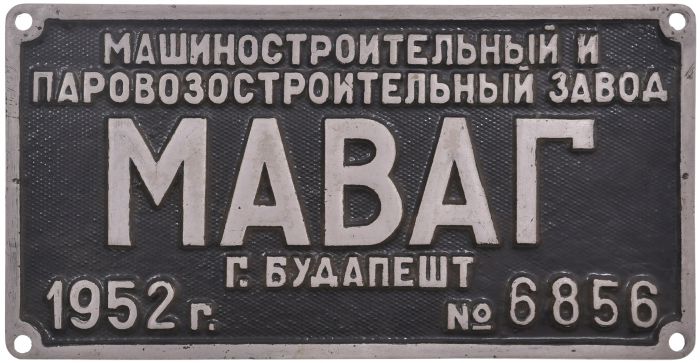 Lot 69

Worksplates (Steam)

Mavag 6856, 1952, Worksplate
A worksplate, MAVAG, 6856, 1952, from a 5ft gauge 0-10-0 of Russian class Er, built in quantity after the Second World War. This famous Hungarian locomotive works was only one of a number of Soviet Bloc contributors building this mixed traffic class, believed to be the world's most numerous class of steam engine. The plate is in the Cyrillic script, though some are in the Latin alphabet. Cast aluminium, 14"x7¼", cleaned and the front repainted. £50-80
This lot sold for £160 to bidder number 8865.
Additional picture: