GCR Fortnightly Sales: Lot 70, Sale 285
Closing Days: Thursday, 23 July & Friday, 24 July 2020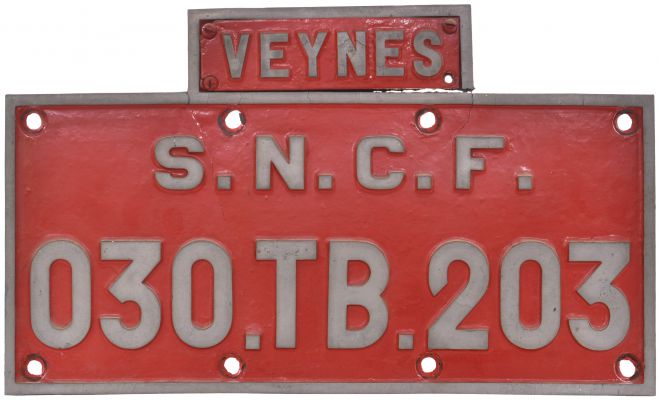 Lot 70

Cabside Numberplates

S.N.C.F. 030.TB.203, Veynes
A French cabside numberplate, S.N.C.F. 030.TB.203, including its shed allocation plate VEYNES, from a locomotive built as a Bourbonnais 0-6-0 tender engine No 209 at P.L.M. Paris, Works No 100, in 1871 and later renumbered 3 AM 203. Rebuilt as a 0-6-0 tank in 1913, it became S.N.C.F. 030.TB.203 in 1925. It was based at the depot at Veynes in Region Mediterrannee from where it was withdrawn. The class lasted until 1958. Cast metal, 19¼"x11¾", some cracking at the top of the plate. £250-400
This lot sold for £460 to bidder number 2905.
Additional picture: