GCR Fortnightly Sales: Lot 59, Sale 295
Closing Days: Bidding closes on Wednesday, 11 November at 5:00pm with "Final Bid" on Thursday, 12 November & Friday, 13 November 2020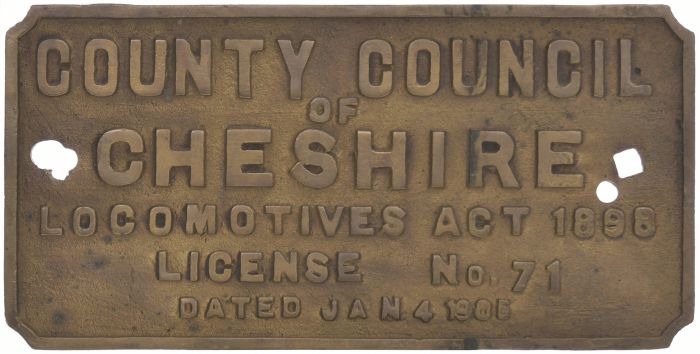 Lot 59

Loco and Rolling Stock

County Council of Cheshire License No 71
A road locomotive registration plate, COUNTY COUNCIL OF CHESHIRE, LOCOMOTIVES ACT 1898, LICENSE No 71, DATED JAN 4 1905. Cast brass, 9"x4½", the front cleaned but unpainted, the back in original condition. £100-200
This lot sold for £270 to bidder number 9243.
Additional picture: