GCR Fortnightly Sales: Lot 78, Sale 292
Closing Days: Bidding closes on Wednesday, 14 October at 5:00pm with "Final Bid" on Thursday, 15 October & Friday, 16 October 2020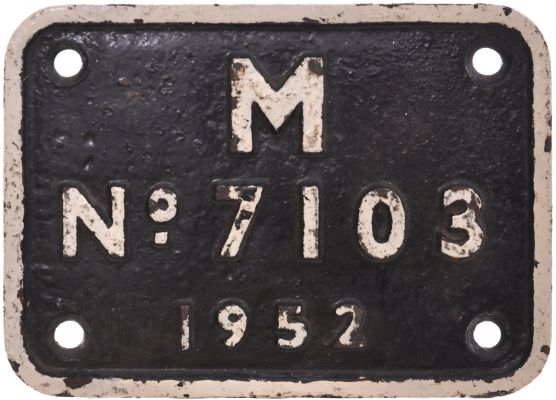 Lot 78

Tenderplates

M. No.7103, 1952 (46503)
A tenderplate, M. No 7103, 1952, from a 3000 Gallons tender with inset bunker coupled new with (LMS) Class 2 2-6-0 No 46503 built at Swindon and allocated new on 18 November 1952 to Oswestry where it spent most of its working life before moving to Willesden in 1963 and later Springs Branch, Speke Junction and Northwich from where it was withdrawn in the week ending 6 May 1967 and sold for scrap to Cashmores at Great Bridge. Cast iron, 8"x5¾", repainted. £100-200
This lot sold for £360 to bidder number 338.
Additional picture: