GCR Fortnightly Sales: Lot 64, Sale 292
Closing Days: Bidding closes on Wednesday, 14 October at 5:00pm with "Final Bid" on Thursday, 15 October & Friday, 16 October 2020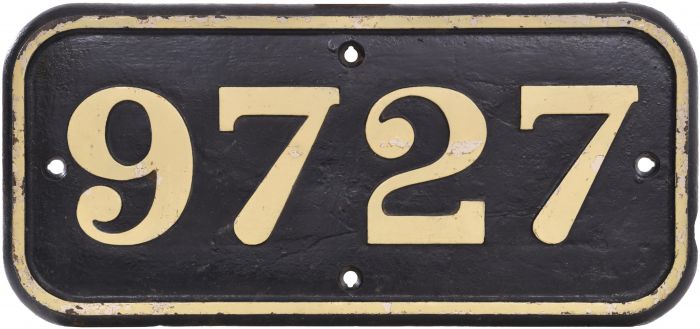 Lot 64

Cabside Numberplates

9727
A GWR cabside numberplate 9727, from a 8750 Class 0-6-0PT built at Swindon in December 1934. A long time Gloucester engine, it moved at the end of 1960 to Cardiff Canton and then Barry from where it was withdrawn in the week ending 3 November 1962 and cut up at Swindon Works. Cast iron, the front repainted. £200-350
This lot sold for £320 to bidder number 9243.
Additional picture: