GCR Fortnightly Sales: Lot 65, Sale 291
Closing Days: Bidding closes on Wednesday, 16 September at 5:00pm with "Final Bid" on Thursday, 17 September & Friday, 18 September 2020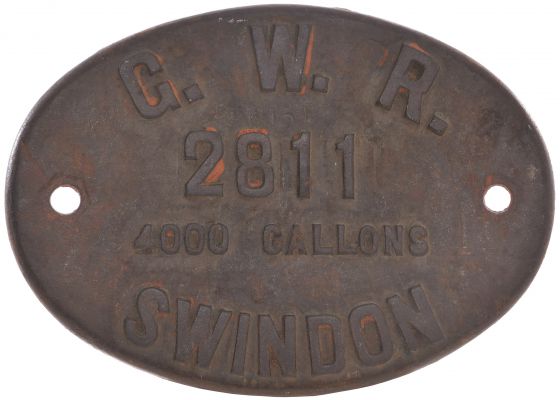 Lot 65

Tenderplates

GWR, 2811, 4000 Gallons
A tenderplate, G.W.R. 2811, 4000 GALLONS, SWINDON, from a Standard Collett tender, part of Lot A157 built at Swindon between November 1939 and April 1940 and used with Kings, Castles, Stars, Halls and Granges. Cast iron, 8¼"x6", lightly cleaned but unpainted. £100-200
This lot sold for £440 to bidder number 1191.
Additional picture: