GCR Fortnightly Sales: Lot 30, Sale 289
Closing Days: Bidding closes on Wednesday, 2 September at 5:00pm with "Final Bid" on Thursday, 3 September & Friday, 4 September 2020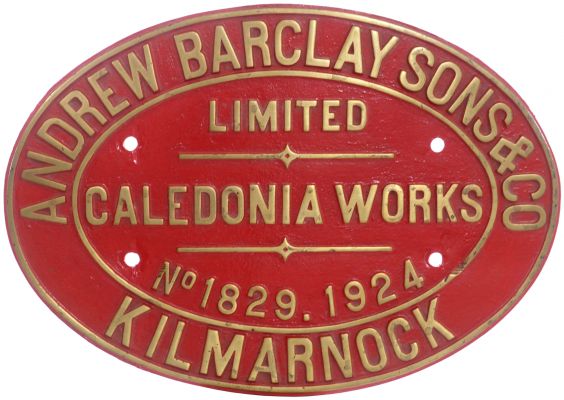 Lot 30

Worksplates (Steam)

Andrew Barclay, 1829, 1924
A worksplate, ANDREW BARCLAY, 1829, 1924, from a standard gauge 0-6-0ST which went new to James Nimmo & Co. Ltd, Auchengeich Colliery, Bridgend, near Chryston, Lanarkshire. To NCB with colliery in January 1947 where it acquired the running number 2 and later 12. Worked at numerous different collieries in Scotland under NCB ownership, finishing up at Polkemmet Colliery, Whitburn, West Lothian. Scrapped there in 1987. Cast brass, 16¾"x9¾", the front repainted. £150-300
This lot sold for £360 to bidder number 1345.
Additional picture: