GCR Fortnightly Sales: Lot 79, Sale 287
Closing Days: Bidding closes on Wednesday, 19 August at 5:00pm with "Final Bid" on Thursday, 20 August & Friday, 21 August 2020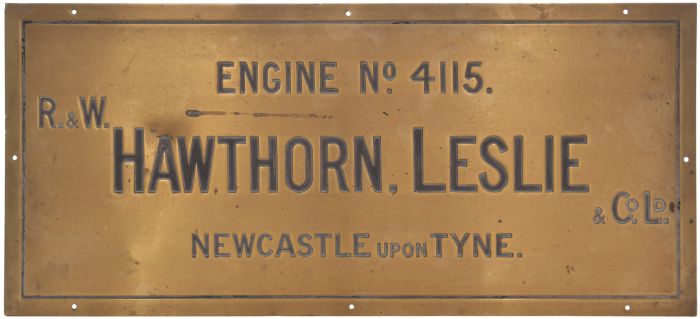 Lot 79

Worksplates (Steam)

Hawthorn Leslie, 4115
A worksplate, HAWTHORN LESLIE, 4115. Locomotives built by the company stop at works number 3853 after which the locomotive department was acquired by Robert Stephenson & Co. They did, however, continue to make marine engines and this plate is probably from one such engine. Engraved brass, 25"x11¼", an impressive plate, lightly polished. £100-200
This lot sold for £440 to bidder number 8999.
Additional picture: