GCR Fortnightly Sales: Lot 18, Sale 287
Closing Days: Bidding closes on Wednesday, 19 August at 5:00pm with "Final Bid" on Thursday, 20 August & Friday, 21 August 2020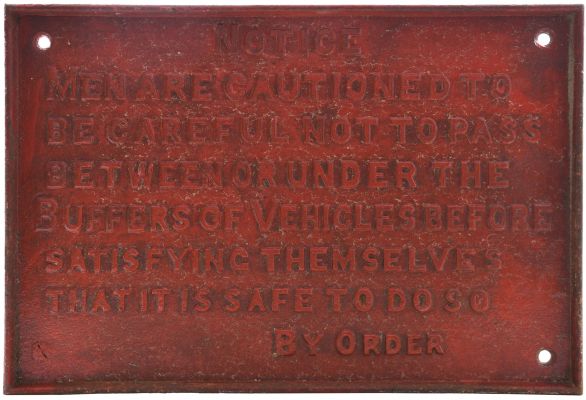 Lot 18

Cast Iron Signs

Passing Between Buffers, GER
A Great Eastern Railway warning sign, NOTICE, MEN ARE CAUTIONED TO BE CAREFUL NOT TO PASS BETWEEN OR UNDER THE BUFFERS OF VEHICLES BEFORE SATISFYING THEMSELVES THAT IT IS SAFE TO DO SO, BY ORDER. Cast iron, 17½"x11¾", the front repainted. £100-200
This lot sold for £180 to bidder number 8588.
Additional picture: