GCR Fortnightly Sales: Lot 5, Sale 286
Closing Days: Bidding closes on Wednesday, 5 August at 5:00pm with "Final Bid" on Thursday, 6 August & Friday, 7 August 2020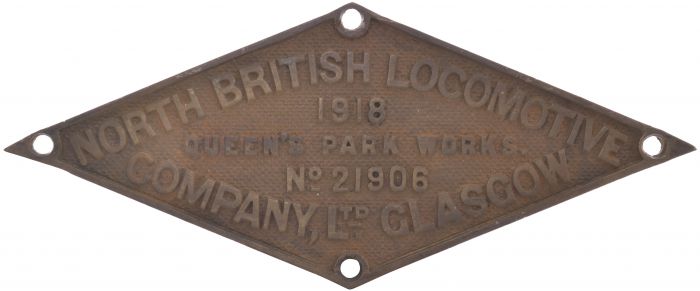 Lot 5

Worksplates (Steam)

NBL, 21906, 1918 (63816)
A worksplate, NORTH BRITISH LOCOMOTIVE Co, QUEENS PARK WORKS, 21906, 1918, from a Robinson Great Central type 2-8-0 built in June 1918 to Ministry of Munitions order for the Railway Operating Division of the Royal Engineers, ROD No 1929. Loaned to the Great Eastern Railway, it was returned to the ROD in August 1921 and stored at Queensferry until sold to the LNER in February 1927, becoming their Class O4 No 6606. Renumbered 3816 in 1946, it became BR 63816. Allocated to Hull Dairycoates by January 1948, it moved in September 1951 to Colwick from where it was withdrawn on 15 January 1966 and despatched for scrap to George Cohen at Kettering on 23 March 1966. Cast brass, 13"x5", in ex loco condition. £150-300
This lot sold for £320 to bidder number 3485.
Additional picture: