GCR Fortnightly Sales: Lot 40, Sale 286
Closing Days: Bidding closes on Wednesday, 5 August at 5:00pm with "Final Bid" on Thursday, 6 August & Friday, 7 August 2020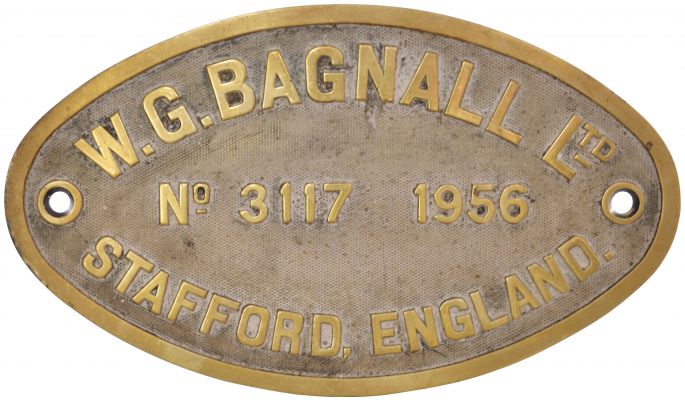 Lot 40

Worksplates (Diesel)

Bagnall, 3117, 1956
A worksplate, W. G. BAGNALL, 3117, 1956, from a standard gauge 0-6-0 diesel-mechanical locomotive. Originally ordered for use with the NCB at Hem Heath Colliery at Trentham, Stoke-on-Trent, but diverted to the West Cannock Collieries at Hednesford, as No. 1. In January 1959 it was transferred to Hollybank Colliery at Essington. In April 1960 it made its final move to Lea Hall Colliery, Rugeley and was sold for scrap in December 1983 to Marple & Gillott Ltd, Sheffield. Cast brass, 12"x7", the front lightly cleaned but unpainted. £100-200
This lot sold for £380 to bidder number 9183.
Additional picture: