GCR Fortnightly Sales: Lot 18, Sale 286
Closing Days: Bidding closes on Wednesday, 5 August at 5:00pm with "Final Bid" on Thursday, 6 August & Friday, 7 August 2020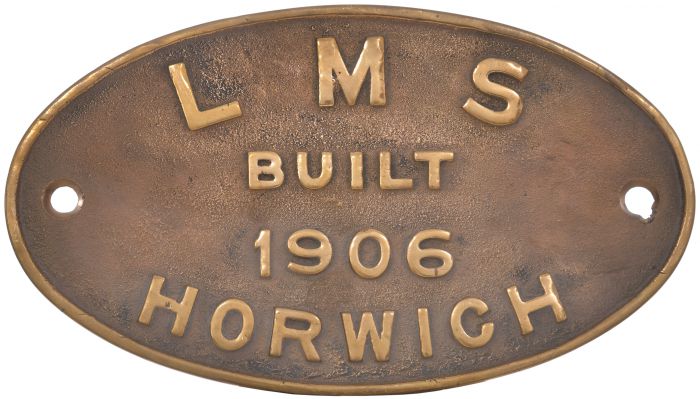 Lot 18

Worksplates (Steam)

LMS Built 1906, Horwich
A worksplate, LMS BUILT 1906, HORWICH. Locomotives built by the Lancashire & Yorkshire Railway at its Horwich Works in 1906 were mainly 41 Class 0-6-0, many of which survived into BR service numbered in the 52XXX series and this plate is most likely to be from one of those. Also built that year were 1451 Class 0-8-0, all withdrawn by the 1930s, two 898 Class 0-6-0 and railmotors Nos 3-8. Cast brass, 10½"x6", the front cleaned but unpainted. £150-300
This lot sold for £290 to bidder number 7117.
Additional picture: