GCR Fortnightly Sales: Lot 30, Sale 285
Closing Days: Thursday, 23 July & Friday, 24 July 2020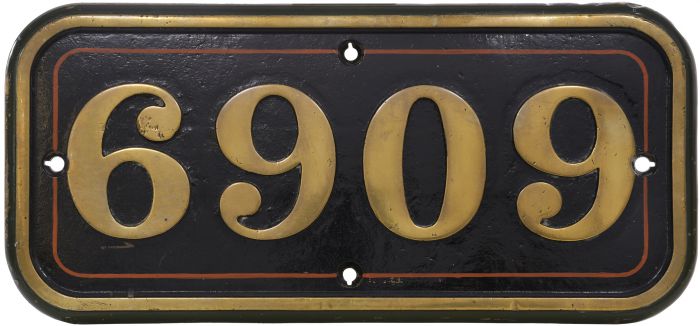 Lot 30

Cabside Numberplates

6909 (Frewin Hall)
A GWR cabside numberplate, 6909, from a 4900 Hall Class 4-6-0 built at Swindon in November 1940 and named when built FREWIN HALL after a hall attached to Brasenose College, Oxford. Allocated to St Philips Marsh by January 1948, its later sheds included Goodwick, Llanelly, Neyland, Cardiff Canton, Cardiff East Dock and Didcot from where it was withdrawn on 25 June 1964 and sold for scrap to Cashmores at Newport. Cast brass, the front repainted. £900-1200
This lot sold for £900 to bidder number 7474.
Additional picture: