GCR Fortnightly Sales: Lot 65, Sale 284
Closing Days: Thursday, 9 July & Friday, 10 July 2020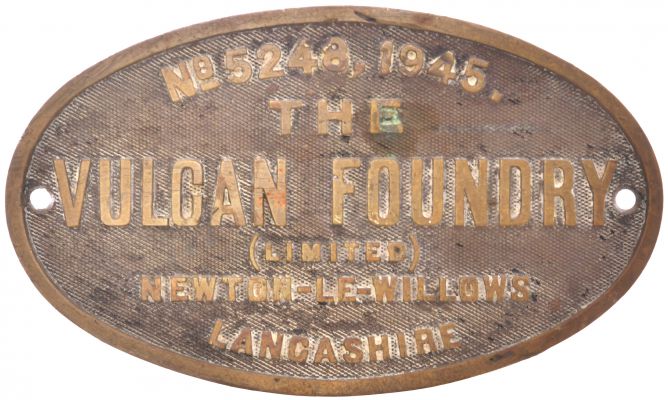 Lot 65

Worksplates (Steam)

Vulcan, 5248, 1945 (90519)
A worksplate VULCAN FOUNDRY, 5248, 1945, from a War Department Austerity 2-8-0 built to Ministry of Supply order in April 1945, WD No 79305. Loaned to the LNER in May 1946 as O7 Class No 3198 and acquired by them in February 1947, becoming BR 63198 and 90519 in February 1951. Its sheds included New England, March, Colwick, Mexborough and Barrow Hill from where it was withdrawn on 21 September 1964 and sold for scrap to W.Heselwood at Attercliffe. Cast brass, 9½"x5¾", lightly cleaned but unpainted. £150-300
This lot sold for £290 to bidder number 4469.
Additional picture: