GCR Fortnightly Sales: Lot 42, Sale 284
Closing Days: Thursday, 9 July & Friday, 10 July 2020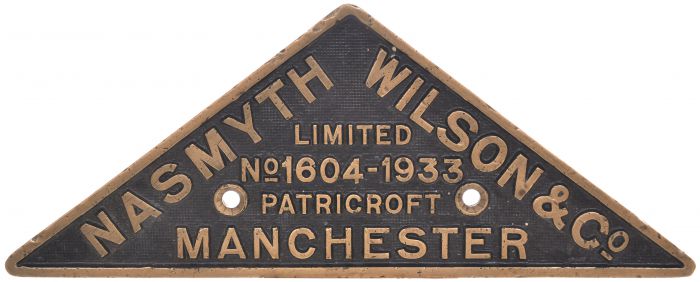 Lot 42

Worksplates (Steam)

Nasmyth Wilson. 1604, 1933
A worksplate, NASMYTH WILSON, 1604, 1933, from a metre gauge 4-6-0 despatched to the Bhavnagar State Railway of India in 1934, their No 41. With the amalgamation of various state railways in April 1948, it became Saurashtra Railway No 112 and later Western Railway of India No 31097. Cast brass, 14"x5½", ex loco condition, the back has a painted number 72. £350-500
This lot sold for £620 to bidder number 221.
Additional picture: