GCR Fortnightly Sales: Lot 38, Sale 284
Closing Days: Thursday, 9 July & Friday, 10 July 2020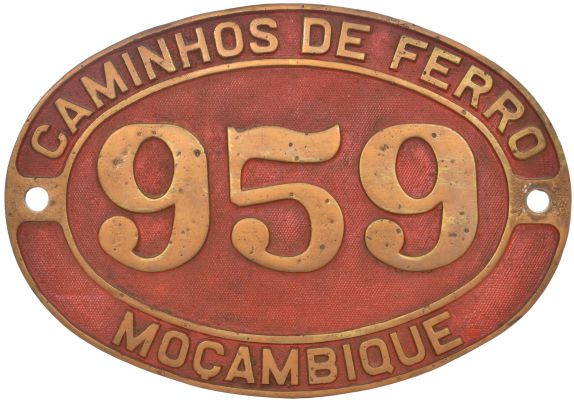 Lot 38

Cabside Numberplates

CDF Mocambique, 959
A cabside numberplate, CAMINOS DE FERRO MOCAMBIQUE 959, from a 3ft 6ins 4-8-2+2-8-4 951 Class Garratt built by Haine St Pierre in Belgium, works No 2067, in 1952, one of the first new Garratts built for the CFM after it ceased to be an integral part of the Rhodesian Railways system. It was last reported at Machipanda, near the border with Zimbabwe. Cast brass, 20"x14", the front repainted. £250-400
This lot sold for £680 to bidder number 3181.
Additional picture: