GCR Fortnightly Sales: Lot 75, Sale 280
Closing Days: Thursday, 11 June & Friday, 12 June 2020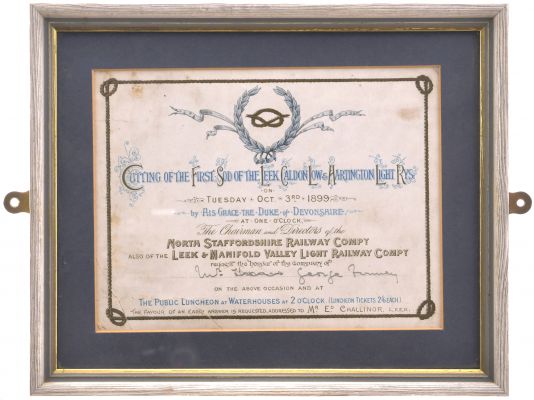 Lot 75

Early and Historical Paperwork

Leek & Caldon Low Opening Invitation
An invitation, Cutting of the first sod of the LEEK, CALDON LOW & HARTINGTON LIGHT RYS, Oct 3rd 1899, by the Duke of Devonshire, issued by the Directors of the North Staffordshire and Leek and Manifold Railway Companies. A public lunch at Waterhouses follows the ceremony. A large card, 8"x6", printed in blue and gold in a decorative style, with the knott emblem prominent, framed, overall 10¾"x9". £50-80
This lot sold for £190 to bidder number 2991.