GCR Fortnightly Sales: Lot 36, Sale 280
Closing Days: Thursday, 11 June & Friday, 12 June 2020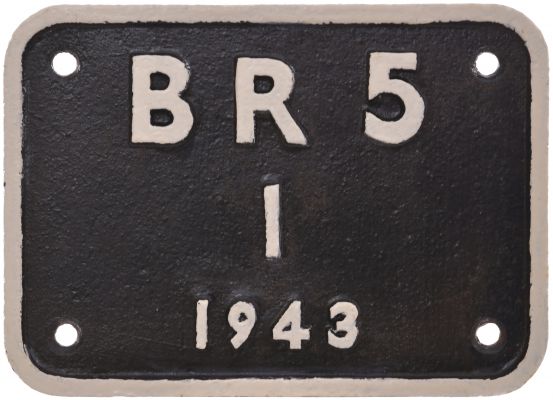 Lot 36

Tenderplates

BR 5, 1, 1943 (90000)
A tenderplate, BR 5, 1, 1943, from the tender coupled new with the War Department Austerity 2-8-0 which became BR 90000. Built to Ministry of Supply order by the North British Locomotive Co, Works No 24980, in February 1943, WD No 77009. Loaned new to the LNER, it returned to the WD in January 1945, and ran in Holland for several months, before being again loaned to the LNER in July 1946 and purchased by them the following December, as Class O7 No 3000, later BR 63000. It spent most of its BR days at Colwick before moving in February 1959 to New England and later Frodingham from where it was withdrawn on 6 June 1965 and sold for scrap to Cox & Danks at Wadsley Bridge. Although most WDs had at least one tender change during their working lives, this tender remained with 90000 throughout its BR life. Cast iron, 8"x4¼", the front repainted. £250-400
This lot sold for £400 to bidder number 4197.