GCR Fortnightly Sales: Lot 29, Sale 280
Closing Days: Thursday, 11 June & Friday, 12 June 2020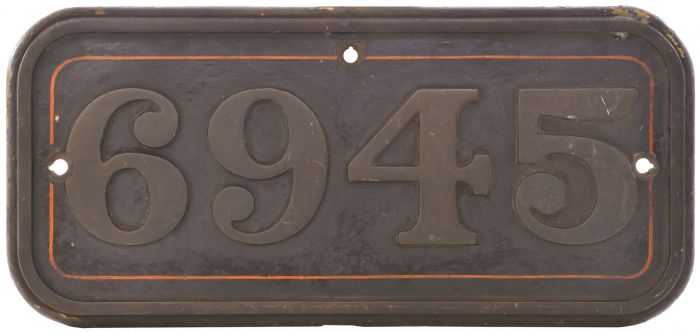 Lot 29

Cabside Numberplates

6945 (Glasfryn Hall)
A GWR cabside numberplate, 6945, from a 4900 Hall Class 4-6-0 built at Swindon in September 1942 and named in September 1946 GLASFRYN HALL after one of two country houses of this name each about twelve miles south and south west of Caerwys near Ruthin, Clwyd. Allocated to Weymouth by January 1948 and later Swindon, St Philips Marsh, Laira, Westbury, Penzance, Stafford Road and Cardiff East Dock from where it was withdrawn in the week ending 29 August 1964 and sold for scrap to I.C. Woodfield at Cadoxton. Cast brass, ex loco condition, completely unpolished and uncleaned. £1200-1500
This item was unsold.